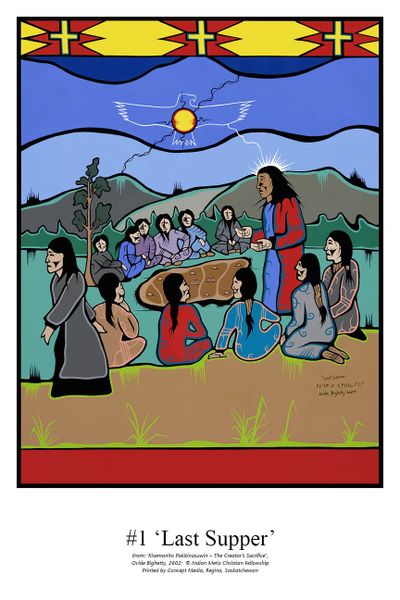 The Last Supper 12 X 18"
The Last Supper
iskwêyâc otâkwani-mîcisowin

« La dernière Cène »
From: 'Kisemanito Pakitinasuwin – The Creator's Sacrifice'
Ovide Bighetty, 2002; copyright with Indian Metis Christian Fellowship
Acrylic on canvas, 106.68cm x 137.16cm (42 x 54 in.)
Matthew 26: 17-35
Mark 14: 12-26
Luke 22: 14-38
John 13: 1-17:1
Christ shared an evening meal with his disciples. He broke bread and passed a cup around to each one, saying, "Do this in memory of me." Later he said, "One of you will betray me." Peter protested, but he said to him, "Before the sun shines, you will say three times that you do not know me."

This product is 12" x 18" and printed on acid free paper. The first in a series of 17 paintings.