Step 9 Use Your Gifts 12 x 18"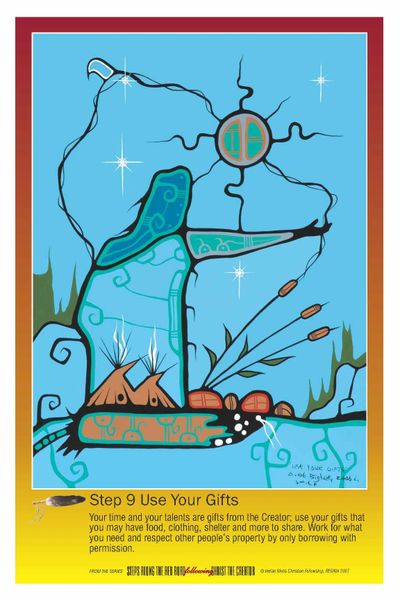 Step 9 Use Your Gifts 12 x 18"
Step 9 Use Your Gifts
Your time and your talents are gifts from the Creator; use your gifts that you may have food, clothing, shelter, and more to share. Work for what you need and
respect other people's property by borrowing only with permission.

kêkâ-mitâtaht tahkoskêwin 
âpacihtâ anihi kâ-kî-miyikowisiyan
ê-kî-miyikowisiyan anima kikaskihêwisiwin; âpacihtâ kikaskihêwisiwina kita‑kaskihtamâsoyan mîciwin, ayiwinisa, ita ta-wîkiyan mîna kîkway kita‑kî‑mâtinamâkêyan. nôcihtamâso kîkway kâ-manêsiyan êkwa kistakihta otipiyawêwisiwina kiwîci-ayisiyinîm, piko ta-kakwêcimat kâ-nôhtê-nitahtâmoyan kîkway.

Étape 9 Sers-toi de tes talents
Ton temps et tes talents sont des dons du Créateur. Sers-toi de tes dons pour te procurer de la nourriture, des vêtements et un toit et en avoir encore à partager. Travaille selon tes besoins et respecte la propriété d'autrui en empruntant seulement avec permission.

This product is 12" x 18" and printed on acid free paper. The ninth print of 12 in this series.