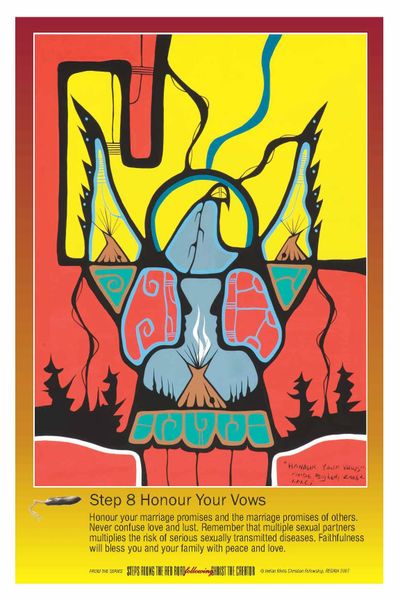 Step 8 Honour Your Vows
Step 8 Honour Your Vows
Honour your marriage promises and the marriage promises of others. Never confuse love and lust. Remember that multiple sexual partners multiplies the risk of serious sexually transmitted diseases. Faithfulness will bless you and your family with peace and love.

ayinânêw tahkoskêwin 
okimâwêyihta kikihci-asotamâkêwina
okimâwêyihta kikihci-wîkihtowi-asotamâtowina mîna wîstawâw kotakak okihci‑wîkihtowi-asotamâtowiniwâwa mîna. môya anima sâkihitowin maci‑mostawêyihtamowin. papâmi-wîhpêmiwêyani nânitaw kika-âsôskamâkawin macâspinêwin mîna ahpô kiya kika-âsôskamâkân. pêyakototâtoyêko kiwîcêwâkan êkwa kiya kika‑sawêyimikowisinâwâw asici kiyâmêyihtamowin mîna sâkihitowin.

Étape 8 Honore tes promesses
Honore la promesse de ton mariage et les promesses du mariage des autres. Ne confonds jamais l'amour et la luxure. Souviens-toi que multiplier les partenaires sexuels multiplie le risque de maladies graves transmises sexuellement. La fidélité te bénira, toi ainsi que ta famille, par la paix et l'amour.

This product is 12" x 18" and printed on acid free paper. The eighth of 12 prints in this series.