Step 7 Respect Creation 12 x 18"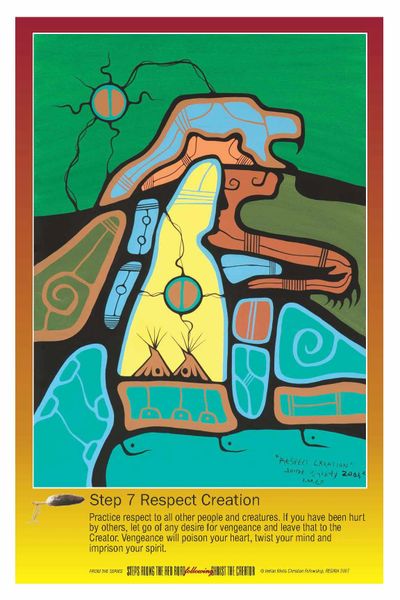 Step 7 Respect Creation 12 x 18"
Step 7 Respect Creation
Practice respect to all other people and creatures. If you have been hurt by others, let go of any desire for vengeance and leave that to the Creator. Vengeance will poison your heart, twist your mind, and imprison your spirit.

têpakohp tahkoskêwin 
kistakihta kahkiyaw kîkway
kâ-miyikowisiyahk
kâkikê kistêyimik kahkiyaw kotakak ayisiyiniwak mîna pisiskiwak. kîspin awiyak kikî‑mâyi-itôtâk, âpêhowin pakiciwêpina, kâ-tipêyihcikêt wiya ka-oyastâw. âpêhowin kika-piscipôhikon kitêhihk, ka-kîskwêhikon kimâmitonêyihcikanihk êkosi kitahcahk âpêhowin ta‑tipêyimikow.

Étape 7 Respecte la création
Respecte tous les peuples et toutes les créatures. Si d'autres t'ont blessé, oublie tout désir de vengeance et confie la cause au Créateur. La vengeance empoisonnera ton cœur, pervertira ta pensée et enfermera ton esprit.

This product is 12" x 18" and printed on acid free paper. The seventh of 12 prints in this series.