Step 5 Trust and Rest 12 x 18"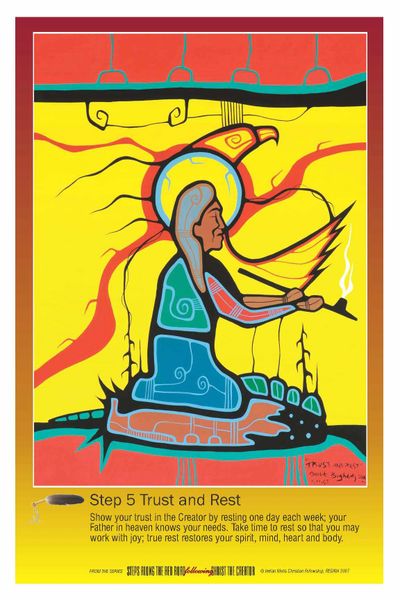 Step 5 Trust and Rest 12 x 18"
Step 5 Trust and Rest
Show your trust in the Creator by resting one day each week; your Father in heaven knows your needs. Take time to rest so that you may work with joy; true rest restores your spirit, mind, heart, and body.

niyânan tahkoskêwin aspêyimowin mîna aywêpiwin
aywêpiyani pêyak kîsikâw tahtwâw kâ-ispayik kika-nôkohtân iyikohk ê-tâpwêhtawat kisê-manitow; ayisk kôhtâwiy kihci-kîsikohk kâ-ayât kiskêyihtam kîkway
kâ-ma-manêsiyan. aywêpi êkosi ka‑miywêyihtên kâ-atoskêyan; kwayask aywêpiyani kika‑âstê‑ayân kitahcahkohk, kimâmitonêyihcikanihk, kitêhihk mîna kiyawihk.

Étape 5 Fais confiance et repose-toi
Montre ta confiance au Créateur en faisant relâche une journée par semaine; ton Père qui est dans les cieux connaît tes besoins. Prends le temps de t'arrêter pour ensuite travailler dans la joie; le vrai repos ressource ton esprit, ta pensée, ton cœur et ton corps.

This product is 12" x 18" and printed on acid free paper. The fifth of 12 prints in this series.