Step 4 Honour the Creator 12 x 18"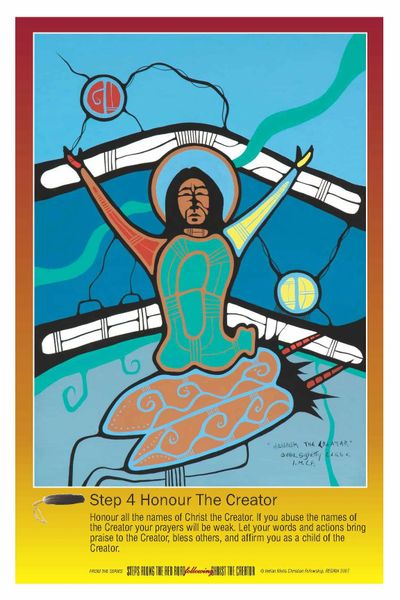 Step 4 Honour the Creator 12 x 18"
Step 4 Honour the Creator
Honour all the names of Christ the Creator. If you abuse the names of the Creator, your prayers will be weak. Let your words and actions bring praise to the Creator, bless others, and affirm you as a child of the Creator.

nêwo tahkoskêwin kistêyim kisê-manitow
kistêyihta kahkiyaw Christ kâ-tipêyihcikêt owîhowina. kîspin êkâ kwayask âpacihtâyani owîhowina, ta-nêsowanwa kitayamihêwina. tahtwâw kâ‑pîkiskwêyan mîna kîkway kâ-itôtaman, êkota ohci ta-kî-mamihcimat kisê-manitow; mîna kotakak êkota ohci wîstawâw ta-kî-sawêyimikowisicik; êwako ohci ka-kiskêyihtâkosin
kisê-manitow ocawâsimisa kiya.

Étape 4 Honore le Créateur
Honore tous les noms du Christ Créateur. Si tu prononces inutilement le nom du Créateur, tes prières seront sans portée. Fais en sorte que tes mots et tes actions chantent les louanges du Créateur, bénissent les autres et t'affirment comme
enfant du Créateur.

This product is 12" x 18" and printed on acid free paper. The fourth of 12 prints in this series.