Step 12 Surrender Yourself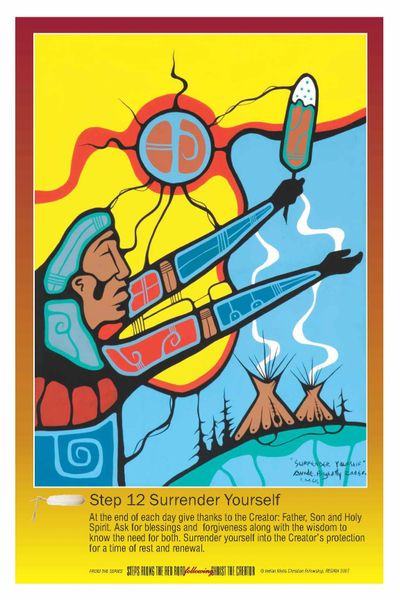 Step 12 Surrender Yourself
Step 12 Surrender Yourself
At the end of each day give thanks to the Creator: Father, Son, and Holy Spirit. Ask for blessings and forgiveness along with the wisdom to know the need for both. Surrender yourself into the Creator's protection for a time of rest and renewal.

nîsosâp tahkoskêwin 
pakitêyimiso
nanâskom kisê-manitow tahtwâw kîsikâw kâ-kisipipayik: mâmawi-ohtâwîmâw,
okosisimâw, êkwa kanâci-ahcahk. natota sawêyimikowisiwin mîna kâsînamâkêwin êkwa mîna kiskêyihtamowin êkosi ka-kî‑nisitawêyihtaman êwakoni
ê-nitawêyihtamihk. pakitêyimiso kâ‑tipêyihcikêt okanawêyimikowisiwinihk isi
êkosi ta-aywêpiyan kîhtwâm ta‑oskimahcihoyan.

Étape 12 Laisse-toi aller
À la fin de chaque journée, rends grâce au Créateur : Père, Fils et Esprit saint. Demande leur bénédiction et leur pardon, ainsi que la sagesse de savoir que tu as besoin de chacun. Remets-t'en à la protection du Créateur pour un moment de repos et de renouvellement.
This product is 12" x 18" and printed on acid free paper. The eleventh of 12 prints in this series.