Step 10 Defend The Truth 12 x 18"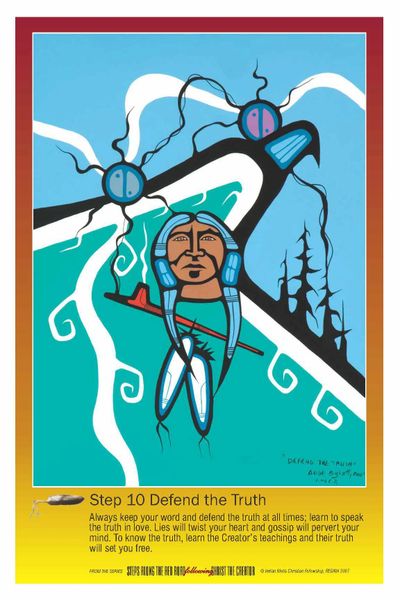 Step 10 Defend The Truth 12 x 18"
Step 10 Defend The Truth
Always keep your word and defend the truth at all times; learn to speak the truth in love. Lies will twist your heart and gossip will pervert your mind. To know the truth, learn the Creator's teachings and their truth will set you free.

mitâtaht tahkoskêwin 
kispêwâta tâpwêwin
êkâwiya wîhkâc pîkona kitasotamâkêwina êkwa kâkikê tâpwêwin kispêwâta; kiskinwahamâso ta-tâpwêyan sâkihiwêwinihk. kiyâskiwina wiya
kika-pîminikêpayihikon kitêhihk êkwa maci-âyimôhtowin kika-nisiwanâcihikon kimâmitonêyihcikanihk. tâpwêwin nôhtê-kiskêyihtamani, kiskinowâpahta
kâ-tipêyihcikêt okiskinwahamâkêwina êkwa êkoni kika-pihkohikon.

Étape 10 Prends la défense de la vérité
Garde toujours ta parole et prends toujours la défense de la vérité. Apprends à dire la vérité dans l'amour. Le mensonge va fausser ton cœur et le bavardage va pervertir ton esprit. Pour connaître la vérité, apprends les enseignements du Créateur et leur vérité te rendra libre.
This product is 12" x 18" and printed on acid free paper. The tenth of 12 prints in this series.