Step 1 Follow The Creator 12 x 18"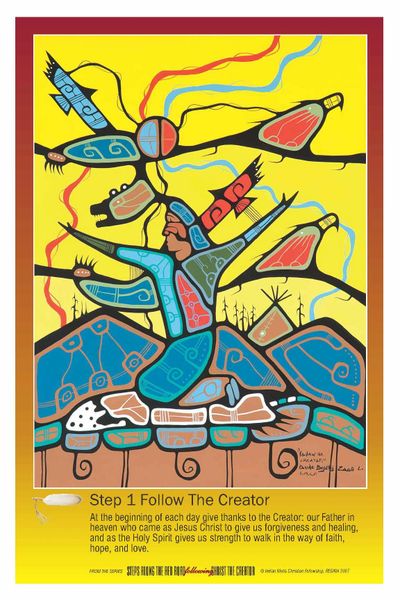 Step 1 Follow The Creator 12 x 18"
Step 1 Follow The Creator
At the beginning of each day give thanks to the Creator: our Father in heaven who came as Jesus Christ to give us forgiveness and healing and as the Holy Spirit gives us strength to walk in the way of faith, hope, and love.

pêyak tahkoskêwin 
pimitisah kisê-manitow
tahtwâw kâ-kîkisêpâyâk nanâskom kisê-manitow: Jesus awa ohtâwiya kihci‑kîsikohk ohci kî‑wiyawîhikow ôta kita-pê-miyikoyahk pônêyihtamâkêwin mîna nanâtawihowin; êwako kanâci-ahcahk maskawisîwin kimiyikonaw kwayask ta‑pimohtêyahk, ta‑pimitisahamahk tâpwêwakêyihtamowin, aspêyimowin, êkwa sâkihiwêwin.

Étape 1 Suis le Créateur
Au début de chaque journée, rends grâce au Créateur : notre Père qui est dans les cieux, qui est venu en Jésus-Christ pour nous pardonner et nous guérir, et en l'Esprit saint pour nous donner la force de marcher sur le chemin de la foi, de l'espérance et de l'amour.
This product is 12" x 18" and printed on acid free paper. This is the first of the 12 prints in the series.