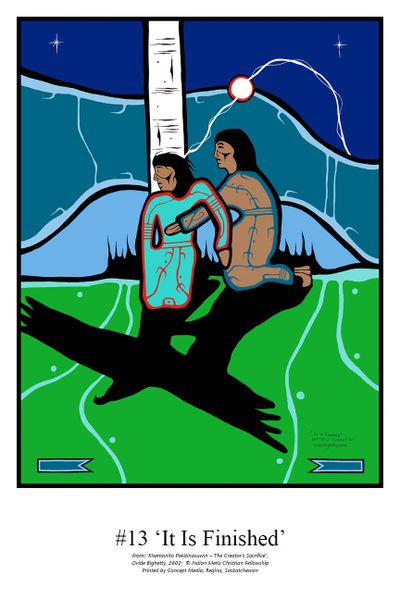 It Is Finished 12 x 18"
It Is Finished
kisipipayin

« La fin »
From 'Kisemanito Pakitinasuwin – The Creator's Sacrifice',
Ovide Bighetty, 2002; Copyright with Indian Metis Christian Fellowship
Acrylic on canvas, 106.68cm x 137.16cm (42 x 54 in.)
Matthew 27: 59
Mark 15: 46
Luke 23: 53
John 19: 38-43
One of the Shamans was a secret follower of Jesus because he was afraid of the power of the other Shamans. He asked the Chief for the body of Jesus. The Chief was surprised that Jesus was already dead. He called his head warrior and asked him if Jesus was dead. After hearing the warrior's report, he told the Shaman he could have the body. The shaman took the body and wrapped it in a bundle.

This product is 12" x 18" and printed on acid free paper. The thirteenth in a series of 17 prints.