Gifts - A Smudging Prayer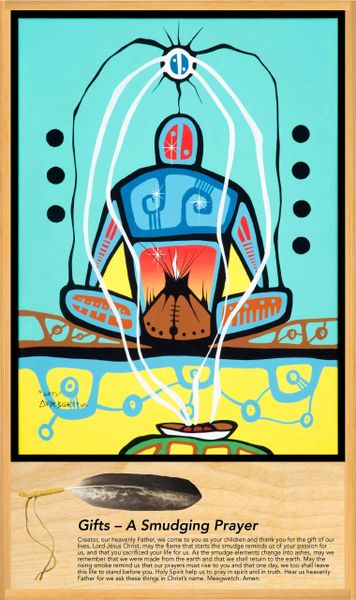 Gifts - A Smudging Prayer
Gifts – A Smudging Prayer
Creator, our heavenly Father, we come to you as your children and thank you for the gift of our lives. Lord Jesus Christ, may the flame that starts the smudge reminds us of your passion for us, and that you sacrificed your life for us. As the smudge elements change into ashes, may we remember that we were made from the earth and that we shall return to the earth. May the rising smoke remind us that our prayers must rise to you and that one day, we too shall leave this life to stand before you. Holy Spirit help us to pray in spirit and in truth. Hear us heavenly Father for we ask these things in Christ's name. Meegwetch. Amen.

miyikowisiwina
kisē-manitow, māmawi-ohtāwīmāw nipē-itohtānān ōma kiciwāsimisak ēkwa ē nanāskomitāhk ōma ē-miyikowisiyāhk pimātisiwin. kimanitōminaw cīsas, mahti ōma iskotēw kā-saskahahk ōma miyāhkasikēwin nikiskisomikonān iyikohk ē kitimākēyimiyāhk, ēkwa ē-kī-pakitinamākēyan kipimātisiwin niyanān ohci. māna nayēstaw pihko kā-iskopayik ōma miyāhkasikēwin mahti kiskisitāk ē-kī-osīhikawiyahk ohci askiy ēkwa kāwi askiy ka-isi-kīwētotēnānaw mīna. mahti kā-ohpāpahtēk ōma, kā kaskāpahtēk ka-kiskisomikoyāhk nitayamihāwinināna ka-otihtikoyan ēkwa mīna ka kanokiskisomikoyāhk kētahtawē nika-nakataskānān ka-otiskawēstātāhk. wīcihinān kā-kanātisit ahcahk ta-kākīsimoyāhk isi manitowin ēkwa tāpwēwin. pēhtawinān māmawi-ohtāwīmāw kā pakosēyimoyāhk kahkiyaw ōhi ohci wiya okosisimāw cīsas.

pitanē ēkosi.
Dons
Créateur, notre Père céleste, nous nous présentons devant vous comme vos enfants et vous remercions de nous avoir donné la vie. Seigneur Jésus-Christ, que la flamme qui fait naître la fumée nous rappelle votre passion pour nous et que vous avez sacrifié votre vie pour nous. Alors que les éléments de la fumée se changent en cendre, rappelons-nous que nous provenons de la terre et que nous y retournerons. Que la fumée qui s'élève nous rappelle que nos prières doivent s'élever jusqu'à vous et qu'un jour, nous aussi nous quitterons cette vie pour nous présenter devant vous. Saint-Esprit, aidez nous à prier en esprit et en vérité. Notre Père céleste, entendez-nous, car nous demandons ces choses au nom du Christ. Amen

This product is 12" x 18" and printed on acid free paper. The third in a series of 11 prints.