Fellowship - A Smudging Prayer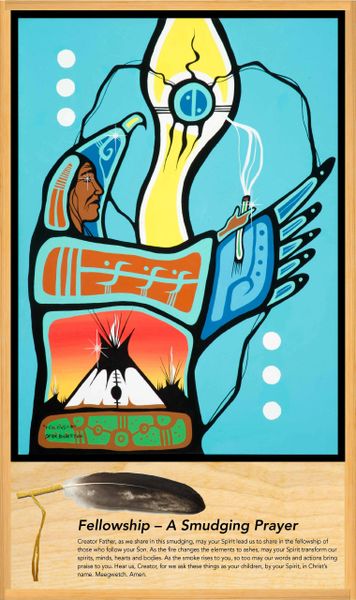 Fellowship - A Smudging Prayer
Fellowship – A Smudging Prayer
Creator Father, as we share in this smudging, may your Spirit lead us to share in the fellowship of those who follow your Son. As the fire changes the elements to ashes, may your Spirit transform our spirits, minds, hearts and bodies. As the smoke rises to you, so too may our words and actions bring praise to you. Hear us, Creator, for we ask these things as your children, by your Spirit, in Christ's name. Meegwetch. Amen

miyo-wīcēhtowin
kisē-manitow, māmawi-ohtāwīmāw, kā-mātinamātoyāhk ōma miyāhkasikēwin, mahti kitahcahkom nika-kiskinohtahikonān ta mātinamātoyāhk miyo-wīcēhtowin ohci aniki kā-pimitisahwācik kikosisa. kā-ati-mēstihkahtēk māna kīkway ēkwa nayēstaw pihko kā-ihtakohk, mahti kiyām kitahcahkom ta-mēskocipitēw nitahcahkomināna, nimāmitonēyihcikanināna, nitēhināna, ēkwa niyawināna. kā ohpāpahtēhokoyan kanikā ēkota mīna nipīkiskwēwinināna ēkwa kā isi waskawīyāhk ka-pētamākon kihcēyihtamowin. pēhtawinān kisē manitow, ē-kakwēcimitāhk pēyakwan kicawāsimisak, kitahcahkomihk, okosisimāw cīsas owīhowin. ninanāskomon.

pitanē ēkosi.
Amitié
Père Créateur, alors que nous participons à cette cérémonie de fumigation, que votre Esprit nous incite à offrir notre amitié à ceux qui vénèrent votre Fils. Alors que le feu change les éléments en cendre, que votre Esprit transforme nos esprits, nos âmes, nos cœurs et nos corps. Comme la fumée qui s'élève jusqu'à vous, que nos mots et nos gestes vous rendent hommage. Créateur, entendez-nous, car nous vous demandons cela comme vos enfants, par votre Esprit, au nom du Christ. Meegwetch. Amen.

This product is 12" x 18" and printed on acid free paper. The fourth in a series of 11 prints.