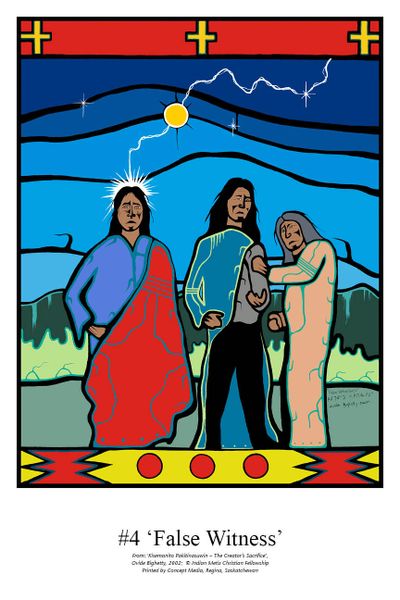 False Witness 12 x 18"
False Witness
kiyâskiwâcimowin

« Faux témoins »
From 'Kisemanito Pakitinasuwin – The Creator's Sacrifice',
Ovide Bighetty, 2002; Copyright with Indian Metis Christian Fellowship
Acrylic on canvas, 106.68cm x 137.16cm (42 x 54 in.)
Matthew 26: 57-68
Mark 14: 53-65
Luke 22: 66-71
John 18: 12-14, 19-24
The mob took Jesus to the Shamans. Many people came forward and told lies about him. A shaman asked him "Tell us if you are the Creator's Son." Jesus answered, "So you say. But I tell all of you; from this time on you will see the Son of Man sitting at the right side of the Almighty Creator and coming on the clouds of heaven." A powerful shaman shouted, "You have heard his nonsense! He must die!"

This product is 12" x 18" and printed on acid free paper. The fourth in a series of 17 paintings.