Creation - A Smudging Prayer 12 x 18"+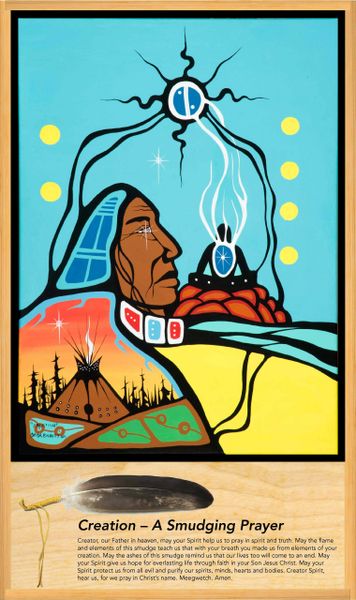 Creation - A Smudging Prayer 12 x 18"+
Creation – A Smudging Prayer
Creator, our Father in heaven, may your Spirit help us to pray in spirit and truth. May the flame and elements of this smudge teach us that with your breath you made us from elements of your creation. May the ashes of this smudge remind us that our lives too will come to an end. May your Spirit give us hope for everlasting life through faith in your Son Jesus Christ. May your Spirit protect us from all evil and purify our spirits, minds, hearts and bodies. Creator Spirit, hear us, for we pray in Christ's name. Meegwetch. Amen.
osīhcikēwin
kisē-manitow, nōhtāwīnān kihci-kīsikohk, mahti kitahcahkom nika wīcihikonān ta -ayamihāyāhk ahcahkohk isi ēkwa tāpwēwinihk. mahti kā-kwāhkotēhk ēkwa anihi kā astēki miyāhkasikēwinihk nika kiskinwahamākonān kiyēhyēwin ē-kī-osīhiyāhk pahkw-āyisa kitosīhcikēwinihk ohci. mahti kika-kiskisomikonānaw ōma pihko miyāhkasowinihk ohci kētahtawē kīstanaw ka-nakataskānaw. mahti kitahcahkom nika miyikonān pakosēyimowin kākikē pimātisiwin ka-ayāyahk tāpwēwakēyihtamowin ohci kikosis cīsas. mahti ka-kanawēyimikonān kitahcahkom ohci kahkiyaw macātisiwin ēkwa kwayask ka-kanācihāt nitahcahkomināna, nimāmitonēyihcikanināna, nitēhināna, ēkwa niyawināna. kisē-manitow ahcahk, pēhtawinān, ē-ayamihāyāhk okosisimāw cīsas owīhowin. ninanāskomon. pitanē ēkosi.
Création
Créateur, notre Père qui êtes au Ciel, que votre Esprit nous aide à prier en esprit et en vérité. Que la flamme et les éléments de cette fumée nous apprennent que vous nous avez créés de votre souffle à partir d'éléments de votre création. Que les cendres de cette fumée nous rappellent que nos vies également auront une fin. Que votre Esprit nous donne l'espoir d'une vie éternelle par notre foi en votre Fils Jésus-Christ. Que votre Esprit nous protège du mal et purifie nos esprits, nos âmes, nos cœurs et nos corps. Esprit Créateur, entendez-nous, car nous prions au nom du Christ. Meegwetch. Amen
This product is 12" x 18" and printed on acid free paper. The first in a series of 11 prints.