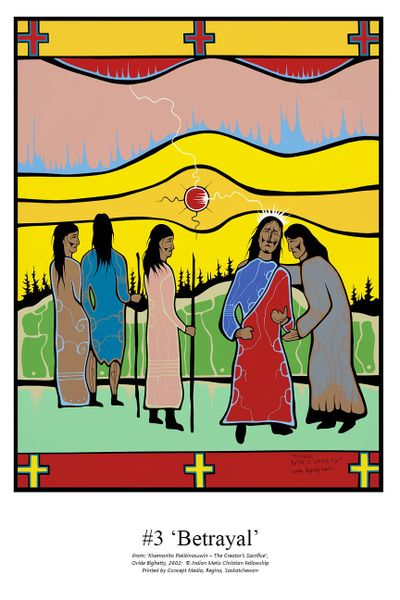 Betrayal 12 x 18"
Betrayal
kâ-misihiht

« Trahison »
From 'Kisemanito Pakitinasuwin – The Creator's Sacrifice',
Ovide Bighetty, 2002; Copyright with Indian Metis Christian Fellowship
Acrylic on canvas, 106.68cm x 137.16cm (42 x 54 in.)
Matthew 26: 47-56
Mark 14: 43-52
Luke 22: 47-53
John 18: 1-11
Judas, the traitor, led a group of warriors with clubs and spears and carrying torches. Jesus said to them, "Did you have to come with weapons as though I were a criminal? I was with you at the ceremony grounds everyday and you did not try to arrest me. But this is your hour to act, when the power of darkness rules." His disciples ran away.

This product is 12" x 18" and printed on acid free paper.
The third in a series of 17 paintings.