A Prayer for Wisdom 12 x 18"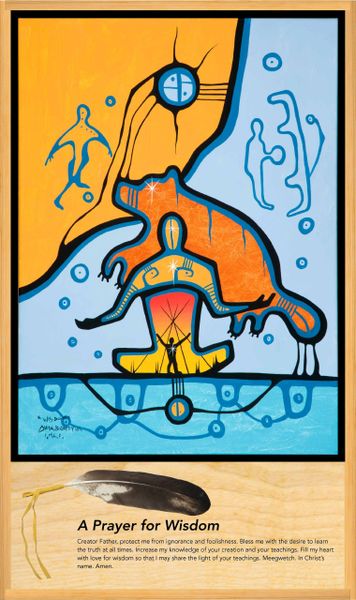 A Prayer for Wisdom 12 x 18"
A Prayer for Wisdom
Creator Father, protect me from ignorance and foolishness. Bless me with the desire to learn the truth at all times. Increase my knowledge of your creation and your teachings. Fill my heart with love for wisdom so that I may share the light of your teachings. Meegwetch. In Christ's name. Amen.

kiskēyihtamāsowin
kisē-manitow ohtāwīmāw, nākatēyimin ohci kakēpātisiwin mīna mōhcowātisiwin. sawēyimin ēkosi pisisik ka-nisitohtamān tāpwēwin. nawac mistahi kiskēyihtamohin kitosīhcikēwin ēkwa kikiskinwahamākēwina. sākaskinahtā nitēh ka-sākihtāyān kiskēyihtamāsowin ēkosi nika-āsōnamākān kikiskinwahamākēwina. ninanāskomon. okosisimāw cīsas owīhowin. pitanē ēkosi.

Sagesse

Père Créateur, protégez-moi de l'ignorance et de la bêtise. Bénissez-moi du désir d'apprendre la vérité en tout temps. Augmentez ma connaissance de votre création et de vos enseignements. Remplissez mon cœur d'amour à l'égard de la sagesse pour que je puisse partager la lumière de vos enseignements. Meegwetch. Au nom du Christ. Amen

This product is 12" x 18" and printed on acid free paper. The eleventh in a series of 11 prints.