A Prayer for Truth 12 x 18"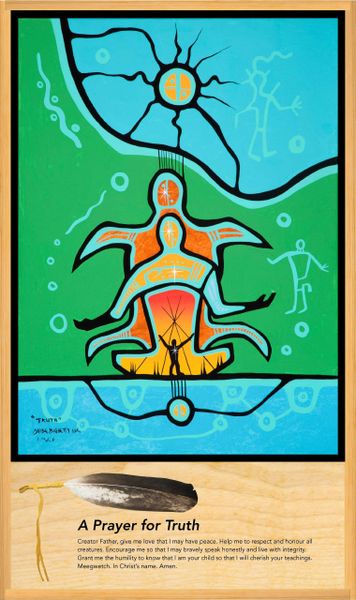 A Prayer for Truth 12 x 18"
A Prayer for Truth
Creator Father, give me love that I may have peace. Help me to respect and honour all creatures. Encourage me so that I may bravely speak honestly and live with integrity. Grant me the humility to know that I am your child so that I will cherish your teachings. Meegwetch. In Christ's name. Amen.

tāpwēwin
kisē-manitow ohtāwīmāw, mahti miyin sākihitowin ēkosi pēyahtakēyimowin ka ayāyān. wīcihin ka-kistēyimakik ēkwa ka kihcēyimakik kahkiyaw pisiskīsak. mahti sīhkimin ēkosi kwayask isi ka pīkiskwēyān mīna ka-miyo-pimātisiyān. miyin tapahtēyimowin ka kiskēyihtamān kitawāsimis ōma niya ēkosi ka-kihcēyihtamān

kikiskinwahamākēwina. ninanāskomon. okosisimāw cīsas owīhowin. pitanē ēkosi.
Vérité
Père Créateur, donnez-moi l'amour pour que je sois en paix. Aidez-moi à respecter et à honorer toutes les créatures. Encouragez-moi à bravement parler avec honnêteté et à vivre avec intégrité. Accordez-moi l'humilité de savoir que je suis votre enfant pour que je chérisse vos enseignements. Meegwetch. Au nom du Christ. Amen

This product is 12" x 18" and printed on acid free paper. The tenth in a series of 11 prints.