A Prayer For Respect 12 x 18"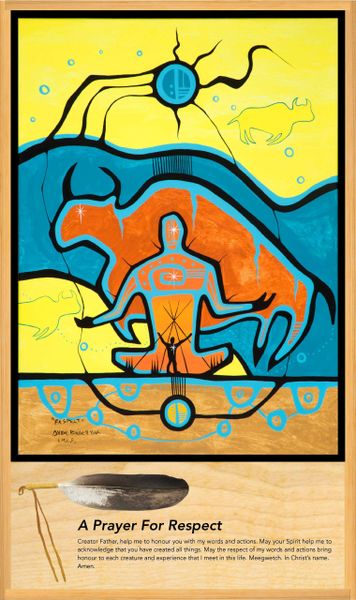 A Prayer For Respect 12 x 18"
A Prayer For Respect
Creator Father, help me to honour you with my words and actions. May your Spirit help me to acknowledge that you have created all things. May the respect of my words and actions bring honour to each creature and experience that I meet in this life. Meegwetch. In Christ's name. Amen.

kistēyimiwēwin
kisē-manitow ohtāwīmāw, wīcihin ta-kistēyimitān ohci nipīkiskwēwina ēkwa nitōcikēwina. mahti kitahcahkom nika-wīcihik ka-kistēyihtamān kahkiyaw kīkway ōma ē kī-osīhtāyan. ka-kihcēyihtākwanwa mahti nipīkiskwēwina mīna kā-isi-waskawīyān ēkosi kistēyihtamowin ka pētamākosicik pāh-piskihc pisiskīsak ēkwa kīkway ka ispayihikoyān ōma pimātisiwin. ninanāskomon. okosisimāw cīsas owīhowin.

pitanē ēkosi.
Respect

Père Créateur, aidez-moi à vous rendre hommage par mes mots et mes gestes. Que votre Esprit m'aide à reconnaître que vous êtes le créateur de toutes les choses. Que le respect de mes mots et de mes gestes rende hommage à toutes les créatures et expériences que je connaîtrai dans cette vie. Meegwetch. Au nom du Christ. Amen

This product is 12" x 18" and printed on acid free paper. The fifth in a series of 11 prints.