A Prayer For Love 12 x 18"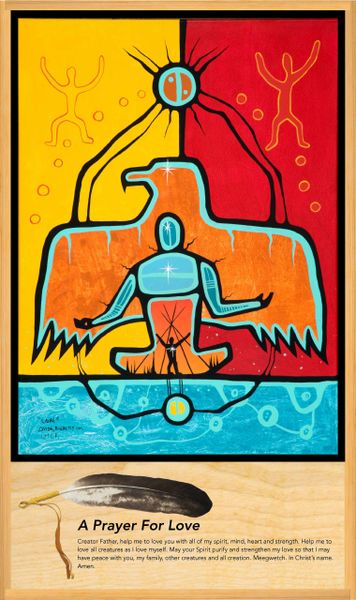 A Prayer For Love 12 x 18"
A Prayer For Love
Creator Father, help me to love you with all of my spirit, mind, heart and strength. Help me to love all creatures as I love myself. May your Spirit purify and strengthen my love so that I may have peace with you, my family, other creatures and all creation. Meegwetch. In Christ's name. Amen.

sākihitowin
kisē-manitow ohtāwīmāw, wīcihin mahti ka-sākihitān kahkiyaw ohci nitahcahkom, nimāmitonēyihcikan, nitēh, ēkwa nimaskawisīwin. wīcihin ka sākihakik kahkiyaw pisiskīsak tāpiskōc kā-isi-sākihisoyān. mahti kitahcahkom kwayask nika-kanācihik ēkwa ka-maskawisīmakan nisākihiwēwin ēkosi ka-pēyāhtakēyimostātān, nītisānak, kotakak pisiskīsak, ēkwa kahkiyaw osīhcikēwin. ninanāskomon. okosisimāw cīsas owīhowin. pitanē ēkosi.

Amour

Père Créateur, aidez-moi à aimer avec tout mon esprit, mon âme, mon cœur et ma force. Aidez-moi à aimer toutes les créatures comme je m'aime moi-même. Que votre Esprit purifie et renforce mon amour pour que je sois en paix avec vous, ma famille, les autres créatures et toute la création. Meegwetch. Au nom du Christ. Amen

This product is 12" x 18" and printed on acid free paper. The seventh in a series of 11 prints.