A Prayer For Humility 12 x 18"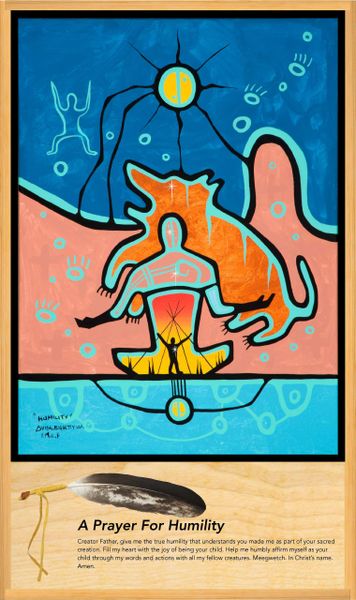 A Prayer For Humility 12 x 18"
A Prayer For Humility
Creator Father, give me the true humility that understands you made me as part of your sacred creation. Fill my heart with the joy of being your child. Help me humbly affirm myself as your child through my words and actions with all my fellow creatures. Meegwetch. In Christ's name. Amen.

tapahtēyimowin
kisē-manitow ohtāwīmāw, mahti miyin anima tāpwē tapahtēyimowin ēkosi ka kiskēyihtamān ē-kī-osīhiyan pahkīs kitowiyinikēwinihk. sākaskinahtā nitēh ēkosi ka miyawātamān kitawāsimis ōma niya. wīcihin tāpwē ka-tapahtēyimisoyān tāpiskōc kitawāsimis ohci nipīkiskwēwina ēkwa nitōcikēwina ohci kahkiyaw nīci-pisiskīsak. ninanāskomon. okosisimāw cīsas owīhowin. pitanē ēkosi.

Humilité
Père Créateur, donnez-moi la véritable humilité de comprendre que vous m'avez conçu pour faire partie de votre création sacrée. Remplissez mon cœur de la joie d'être votre enfant. Aidez moi humblement à m'affirmer comme votre enfant par mes mots et mes gestes auprès de mes semblables. Meegwetch. Au nom du Christ. Amen

This product is 12" x 18" and printed on acid free paper. The sixth in a series of 11 prints.