A Prayer for Honesty 12 x 18"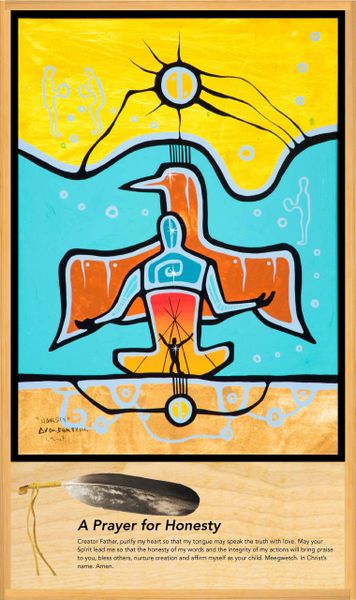 A Prayer for Honesty 12 x 18"
A Prayer for Honesty
Creator Father, purify my heart so that my tongue may speak the truth with love. May your Spirit lead me so that the honesty of my words and the integrity of my actions will bring praise to you, bless others, nurture creation and affirm myself as your child. Meegwetch. In Christ's name. Amen.

kwayaskātisiwin

kisē-manitow ohtāwīmāw, kwayask kanācihtā nitēh ēkosi nitēyiniy
ka-kī-māmiskōtam tāpwēwin asici sākihitowin. mahti kitahcahkom nika kiskinohtahik ka-kwayaskihtākwahki ē-tāpwēmakahki ēkwa ka mamisītocikātēk kā-isi-waskawīyān ka mamihcimikawin, kotakak ka sawēyimihcik, ka-nākatawēyihcikātēw osīhcikēwin, ēkwa ka-nōkohtāyān tāh-tāpwē niya kitawāsimis. ninanāskomon. okosisimāw cīsas owīhowin. pitanē ēkosi.
Honnêteté

Père Créateur, purifiez mon cœur pour que ma langue parle la vérité avec amour. Que votre Esprit me guide pour que l'honnêteté de mes mots et l'intégrité de mes gestes vous rendent hommage, bénissent autrui, nourrissent la création et me confirment comme votre enfant. Meegwetch. Au nom du Christ. Amen

This product is 12" x 18" and printed on acid free paper. The ninth in a series of 11 prints.