A Prayer for Bravery 12 x 18"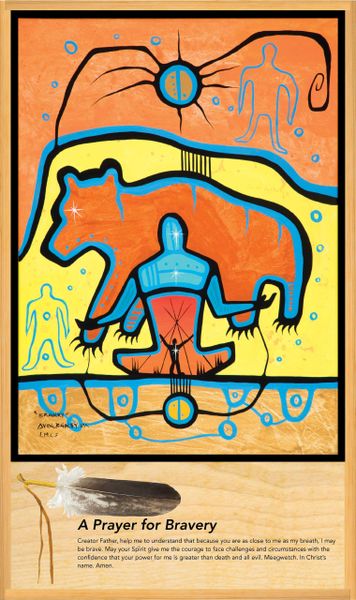 A Prayer for Bravery 12 x 18"
A Prayer for Bravery
Creator Father, help me to understand that because you are as close to me as my breath, I may be brave. May your Spirit give me the courage to face challenges and circumstances with the confidence that your power for me is greater than death and all evil. Meegwetch. In Christ's name. Amen.

sōhkēyimowin
kisē-manitow ohtāwīmāw, mahti nisitohtamōhin māna iyikohk cīki kā isi wīcēwiyan tāpiskōc pēyakwan niyēhyēwin māna ēkosi nika kī sōhkēyimon. mahti kitahcahkom nika-miyik sōhkitēhēwin ka nakiskamān ōhi kā wī mawinēhiskākoyān ēkwa ka-mamisītotamān kisōhkātisiwin ohci niya nawac ē miywāsik iyikohk wiya nipiwin mīna kahkiyaw macātisiwin. nanāskomon. okosisimāw cīsas owīhowin. pitanē ēkosi.

Bravoure
Père Créateur, aidez-moi à comprendre que parce que vous êtes aussi près de moi que mon souffle, je peux être brave. Que votre Esprit me donne le courage d'affronter les défis et les circonstances en ayant confiance que votre pouvoir en moi est plus grand que la mort et le mal. Meegwetch. Au nom du Christ. Amen

This product is 12" x 18" and printed on acid free paper. The eighth in a series of 11 prints.